San Jose is one of California's hidden gems. Even though it's a popular tourist destination with a lot of fun things to do, people don't often pin San Jose on the map for places to visit. San Jose offers enough fun for people of all ages and is a great destination for people who are interested in sports, outdoors, fine dining, and weekend entertainment.
Here are a few things to do in San Jose, California:
Children's Discovery Museum of San Jose
The Children's Discovery Museum of San Jose serves the needs for parents, children and schools for all children through learning and discovery. This is a great place for families with children because you can easily spend the day with everything that the CDM of San Jose has to offer. The mission of the Children's Discovery Museum of San Jose is quite simple, "inspires creativity, curiosity, and lifelong learning" and they do that by building global awareness, and allowing people to explore their cultural differences and diverse backgrounds.
The museum offers summer camps, after school programs, and even one time visits for people looking to seek adventure for the day. Pricing is relatively affordable for people of San Jose as it's $15 a ticket, $14 for people over 60, and children under 1 get in free. You can "plan your play" with options of arts and crafts, looking at historical exhibits, creating science projects, or bridging nature and learning with an unlimited amount of outdoor activities with nearly an acre of nature surrounding the museum.
You can find the Children's Discovery Museum of San Jose at 180 Woz Way San Jose, CA 95110
Directions:
From the North: Follow US-101 S, CA-85 S and I-280 S to Grant St in San Jose. Take the exit toward Almaden Blvd from I-280 S. Merge onto US 101 S. Use the right 2 lanes to take exit 398B for CA-85 S toward Santa Cruz/Cupertino, and continue on CA-85 S. Use the right 2 lanes to take exit 19A to merge onto I-280 S toward San Jose. Take the exit toward Almaden Blvd. Take S Almaden Blvd to Woz Way.
From the South: Continue on US-101 N to San Jose. Keep right at the fork to continue on CA-85 N, follow signs for Cupertino/Mtn View. Use the right 2 lanes to take exit 5A for CA-87 N toward Downtown San Jose and continue onto CA-87 N. Use the right lane to take exit 6 for Santa Clara St/Julian St toward San Carlos St/Auzerais Ave/CA-82. Keep right to stay on Exit 6, follow signs for San Carlos Street/CA-82/Auzerais Avenue. Use the middle lane to turn left onto Woz Way and your destination will be on the right.
Rockin' Jump Trampoline Park San Jose
It doesn't matter if your 4 or 40, Rockin' Jump Trampoline Park in San Jose is a place where you can spend hours of fun jumping, dunking, and climbing. This jump house accommodates birthday parties, promotional events, safe play designated for parents and small children, as well as groups of people from 30 people to 300 hundred people.
Rockin' Jump Trampoline Park San Jose pairs exercising with having fun. To make exercising fun for everyone, they created a business where you can soar in open jump arenas, dive into pools of soft foam cubes, play dodgeball on their large trampolines, and jump and soar through the air.
Their attractions include:
Open jump angles – Large jumping arena for children of all ages to soar through the air with supervised staff on duty
X-Beam – Pick your padded lance and your opponent to see who can last the longest without falling off the beam. Don't worry, if you get knocked off you'll at least fall into a comfortable pile of padded cubes.
Slam Dunk Zone – Ever wonder what it's like to dunk like the pros? Now you can with slam dunk zone! You can dunk like you're in the NBA with their trampoline launch pads.
Vertical Ops – Choose the climbing lane that fits your style for mountain climbing, from beginner to expert. This attraction is a hit with birthday parties as challengers climb to the top to be the 1st one to hit the buzzer.
Stunt Bag Arena – It's like jumping off your furniture at home, but you fly much higher and you land much softer with our padded, clean environment. Jump, Soar, Tumble, Flip your way to the stunt bag arena.
Dodgeball – Experience the ultimate game of dodgeball with our exciting trampoline park. This is like dodgeball on steroids!
You can find Rockin Jump trampoline Park San Jose at: 1901 Monterey Rd. San Jose, CA 95112
SAP Center at San Jose
the SAP Center is home to the San Jose Sharks, a professional hockey team of the NHL. If you've never experienced a NHL game before, the SAP center at San Jose is a great place to start. The Sharks are an exciting hockey team with a lot of recent success. There is not a bad seat in the house as every seat has a clear view of center ice.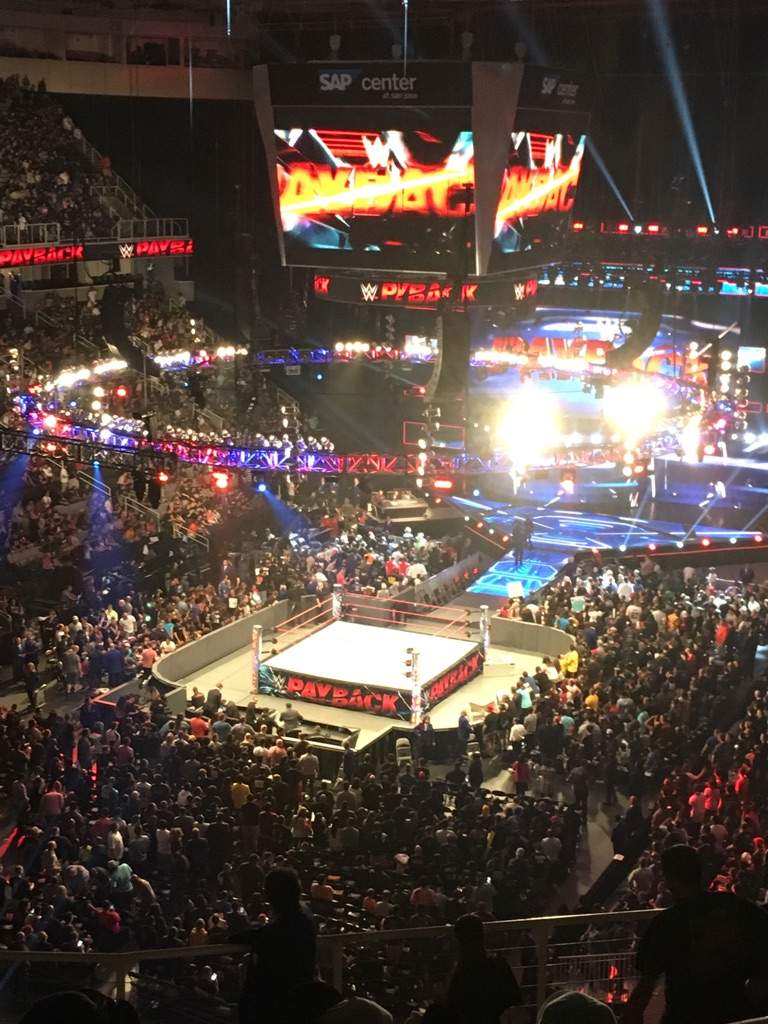 If you're not a hockey fan, then that's no problem either. The SAP center at San Jose also hosts several events and concerts of some big time musicians.
On Wednesday, May 29th, the SAP Center is going to kick it old school with a Naughty by Nature concert. The summer then heats up with WWE Monday Night Raw making its way to town on Monday, June 10th, followed by Jennifer Lopez in concert on Thursday, June 13th.
Google SAP Center events to get dates on what's happening at the SAP center in downtown San Jose.
Rotary Play Garden
The Rotary Play Garden has been open since May of 2013 and is designed to enable children with special needs to join the fun on the playground with their siblings and friends. The park has easy access for children in wheelchairs and with physical limitations, and is structured for fun for children with all abilities.
This is a great place to take your children and let them run around and use up all that energy that they have. There is plenty of fun that can last hours for children of all ages.
If you're visiting San Jose with children, you can find the Rotary Play Garden at 438 Coleman Avenue, San Jose CA 95110
Happy Hollow Park & Zoo
The Happy Hollow Park & Zoo is one of the main attractions in San Jose. With nearly 2,400 google reviews of 4.5 stars out of 5, the people of San Jose have officially spoken. Happy Hollow Park & Zoo is a small zoo with an array of animals and rides, plus an education center, petting zoo and puppet theater.
The zoo is located on 16 acres with attractions of its carousel, roller coaster, petting zoo and the infamous puppet theater. Many people come for the roller coasters, but stay for the animals. The animal exhibits are both fun and educational as you learn important facts and lifestyles of the animals while interacting with them through petting.
The Happy Hollow Park & Zoo is located at 748 Story Rd San Jose, California 95112
San Jose, California is a destination that goes unnoticed majority of the time. With all of the great tourist hotspots in California, most people drive right through, or fly over San Jose to get to where they are going. Next time, take a weekend to appreciate everything San Jose has to offer. Whether you're going solo and you need a break from the real world, or you've got family ready to take on all the activities San Jose has to offer, you'll love your time in silicon valley!